Judge
Brett Kavanaugh
, President
Donald Trump's
nominee for the Supreme Court, and Christine Blasey Ford, a woman who has accused him of sexual assault, both testify in front of the Senate Judiciary Committee on Thursday.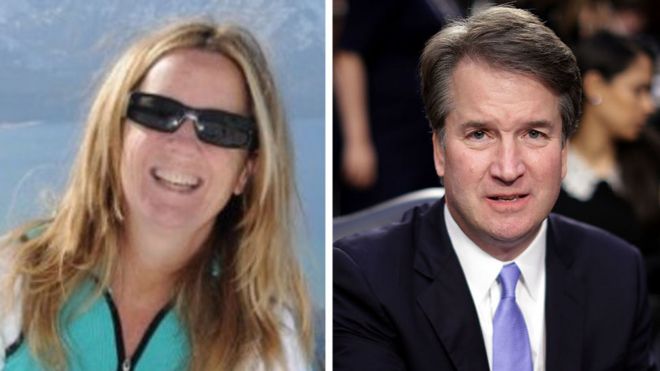 Dr. Blasey Ford & Brett Kavanaugh
Blasey was the first of three women to publicly accuse Kavanaugh of sexual misconduct.
Trump nominated Kavanaugh
in July to replace retiring Justice Anthony Kennedy.
Blasey
will be questioned by Rachel Mitchell
, a prosecutor from Arizona who was hired by Republicans on the Senate Judiciary Committee. Chairman Chuck Grassley (R-Iowa) said he hired Mitchell to "de-politicize the process," which otherwise would have involved only Republican men questioning Blasey.
Read live updates on the hearing below. (You may need to refresh the page to see the latest updates.)
Mitchell asked how Blasey had narrowed down the date of the incident. She said she was able to say it occurred in the summer of 1982 based on when she obtained her driver's license, but that it would be helpful if she knew when Mark Judge worked at the Potomac Safeway because she saw him working there a few weeks after the incident.
more