By Akbar Shahid Ahmed 4/7/17
WASHINGTON ― As President
Donald Trump
on Thursday night announced a military strike on Syria because of his deep concern for "beautiful babies" and other civilians killed in a chemical weapons attack this week, two legal battles continued over his efforts to keep Syrian children and their families out of the United States.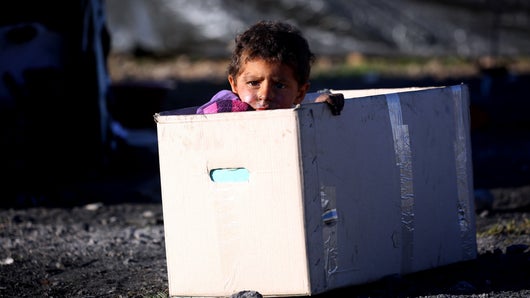 Syrian Baby Living in a Box
The president's first ban on refugees and travelers from seven Muslim-majority countries is being litigated in a
federal court in Seattle
. His second attempted Muslim ban remains blocked by a federal judge in Hawaii, with an appeals court scheduled to hear the case in May.
Both executive orders halted the entry of refugees, and targeted Syrians in particular. The language of the orders echoed Trump's campaign talk about the humanitarian crisis facing more than 20 million people from that country. In September, the then-candidate
said
denying U.S. entry to Syrian refugees is "a matter of terrorism" and "
a matter of quality of life
."
Since his inauguration, Trump has repeatedly spread lies about refugee-related problems
in Sweden
. And his administration has tried to mislead the public on the number of refugees being investigated on terror charges. The Washington Post
rated
Trump's talking point on the issue "highly misleading" last month.
"Assad choked out the lives of helpless men, women and children. It was a slow and brutal death for so many. Even beautiful babies were cruelly murdered at this very barbaric attack," Trump said after launching the strike Thursday night. "No child of God should ever suffer such horror."
more